Colombia targets Gulf Clan after deadly blast in Urabá

]]> Latin America & Caribbean Latin America & Caribbean Colombia targets Gulf Clan after deadly blast in Urabá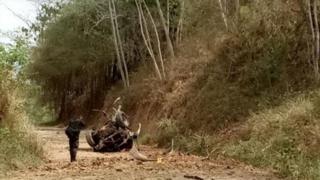 Colombian President Juan Manuel Santos has told the security forces to go after a criminal gang known as the Gulf Clan after the group was blamed for a bomb attack which killed eight police officers in north-western Colombia.
The bomb went off on Wednesday as the officers were escorting officials handing back land to rural dwellers displaced by Colombia's armed conflict.
The Gulf Clan is estimated to have about 1,800 members.
It is Colombia's biggest drugs gang.
It controls many of the routes used to smuggle drugs from Colombia to the US and as far away as Russia.
Colombia's hunt for elusive drug lord
Colombia seizes 12 tonnes of cocaine
The group also engages in extortion, illegal mining, human trafficking, forced displacements and murder.
'Barbaric act'
"This barbaric act will not go unpunished," President Santos said, before telling the police to step up their efforts against the Gulf Clan, which is also known as Los Urabeños after the area where it is most active.
Police General Gustavo Moreno said the bomb had been placed on a narrow dirt path and was set off remotely when a car carrying the officers drove past.
He said officers had later intercepted r adio communications in which the Gulf Clan boasted about the attack.
Colombia's security forces have arrested or killed some of the top leaders of the gang in recent months, but it remains a powerful force and has reportedly also been recruiting both left-wing former Farc rebels disgruntled with the peace process as well as their right-wing former paramilitary rivals.
Last Christmas, the Gulf Clan declared a temporary unilateral ceasefire and expressed its desire to negotiate with the government, but talks to convince its leaders to hand themselves in have so far not yielded any visible results.
Top Stories
Syria warned US still 'locked and loaded'
President Trump vows to repeat Saturday's strikes on Syria if it carries out new chemical attacks.
15 April 2018
Winnie Mandela laid to rest in S Africa
14 April 2018
Thousands join Hungary anti-Orban rally
14 April 2018
Features
Americans going abroad for illegal heroin treatment
Can Trump just walk away after strikes?
Video
What Paul Ryan quitting could really mean
'I was a teacher for 17 years - but I couldn't read'
Video
Tricks that keep you hooked on your phone
Secrets of a world record-breaking 'fairy cave'
Families caught in Trump's refugee clampdown
Video
How I fled North Korea
Were the Syria air strikes legal?
Why you can trust BBC News
BBC News Services
On your mobile
On your connected tv
Get news alerts
Contact BBC News
Source:
Google News Colombia
|
Netizen 24 Colombia