England must be wary of 'formidable' Colombia, warns Lukasz Fabianski


World Cup 2018 England must be wary of 'formidable' Colombia, warns Lukasz Fabianski
• 'They tore us apart in group,' admits Poland goalkeeper
• Midfield particularly strong with Rodríguez and Quintero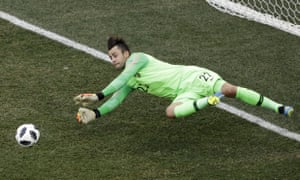 < p>Lukasz Fabianski has warned England that Colombia are formidable opponents and capable of tearing teams apart if they get control of the game. Reflecting on the way in which Poland were comprehensively outclassed and outplayed by Colombia during their 3-0 defeat in Kazan, Fabianski described José Pekerman's side as "the team to avoid at this stage" and highlighted the quality of their midfield in particular.
England face Colombia in Moscow on Tuesday after losing their final group game against Belgium on Thursday to finish second, with that 1-0 defeat putting Gareth Southgate's side in the easier half of the draw in the eyes of some. Yet Fabianski, who made his first appearance at the World Cup finals in Poland's 1-0 win over Japan, believes that England have made life a lot harder for themselves in another respect.
Gareth Southgate: Maybe I've put more pressure on myself, maybe I haven't Read more
"I think they [England] would have pr eferred to play Japan rather than Colombia," Fabianski said. "Colombia is a much better side, much more dangerous. They lost the first game against Japan but I think if you look at the qualities, the team to avoid at this stage of the tournament would be Colombia."
Although James Rodríguez is a doubt for the England game after limping off during the first half of their 1-0 victory over Senegal in Samara, Fabianski pointed to other gifted individuals in the Colombia team, in particular Juan Quintero, who scored in their opening match against Japan with a clever free-kick and also played a delightful pass to set up Radamel Falcao for the second goal in the emphatic win over Poland.
"Colombia have so much quality in the midfield, in [Juan] Cuadrado and James Rodríguez. But especially Rodríguez and [Juan] Quintero," Fabianski added. "He's a really good player [Quintero] with real confidence about himself. This midfield, with Rodríguez as well, has quality -quality."
Colombia's Davinson Sánchez ready for battle with Spurs clubmate Harry Kane Read more
Pekerman's side are at their most dangerous when counterattacking. It was their greatest strength at the last World Cup, where Colombia racked up four straight victories before losing to Brazil in the quarter-finals, and held the key to their impressive performance against Poland, who were picked off as they chased an equaliser.
"They tore us apart when we played against them, so I think you have to look [out] when you face them," Fabianski said. "You have to try to make sure they don't get a grip on the game. In games like this on the big stage things are often quite even until the first goal. Then you have to change. One team has to go for it and the other team feels much more confident because they know: 'Thank you very much, now we're going to open you up.' That's what happened in our game against Colombia."
Topics
World Cup
Colombia
England
Poland
news
Share on Facebook
Share on Twitter
Share via Email
Share on LinkedIn
Share on Pinterest
Share on Google+
Share on WhatsApp
Share on Messenger
Source:
Google News Colombia
|
Netizen 24 Colombia