Colombian sniffer dog moved after threats by drug gang

Latin America & Caribbean Latin America & Caribbean Colombian sniffer dog moved after threats by drug gang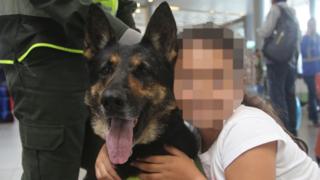 A dog in Colombia which has sniffed out a record amount of drugs in her career with the counter-narcotics police force has been moved to ensure her safety.
Intelligence sources said the Urabeños drugs gang had put a 200m-peso ($70,000; £53,000) price on the German shepherd's head after she found almost 10 tonnes of the gang's cocaine.
The Urabeños is considered Colombia's most powerful criminal organisation.
Sombra (Shadow) was moved from the gang's heartland to Bogotá airport.
The international airport is considered safer for her as it is outside the gang's main area of influence, but the counter-narcotics force is taking no risks.
Police said that apart from her usual handler she was now also accompanied by extra officers to improve her safety during her deployments.
Drug traffickers' scourge
Six-year-old Sombra had been deployed in ports on the Atlantic coast including Turbo, a town from which tonnes of cocaine are shipped b y speedboat and sometimes by submarine to Central America and on to the United States.
Sombra sniffed out 5.3 tonnes of cocaine in Turbo and recently found another four tonnes stashed in car parts meant for export.
Much of the drug trafficking is controlled by the Urabeños, a gang which is also known as the Úsuga clan or Gulf clan.
The gang's boss, Dairo Antonio Úsuga also known as Otoniel, is one of Colombia's most wanted men.
Colombia's hunt for elusive drug lord Otoniel
It is not unusual for the Urabeños to offe r money to get rid of those standing in their way.
In 2012, police found leaflets signed by the gang offering $500 to anyone who killed a police officer.
The vastly bigger sum the Urabeños are offering for the killing of Shadow is indicative of the financial losses her sensitive nose has caused them.
Sombra has been with the counter-narcotics police force since she was a puppy and is credited with sniffing out drugs leading to the arrest of 245 suspects.
Top Stories
Imran Khan claims Pakistan election win
The former cricketer is set for victory but rivals allege there has been vote rigging.
26 July 2018
Residents made fires worse - Greek minister
26 July 2018
Row over CNN reporter's White House ban
26 July 2018
Features
Inside the chaotic effort to reunite separated families
Searching for the father they barely knew
From 'alternative facts' to rewriting history
What happened to Zimbabwe's land reforms?
The precious metal sparking a new gold rush
Video
Is, or was, there ever life on Mars?
BBC Travel: The US island that feels like Russia
Video
The man who could die from daylight
Why young Indians are leaving TV behind
Elsewhere on the BBC
Football phrases
15 sayings from around the world
Full article Football phrases Why you can trust BBC News
BBC News Services
On your mobile
On your connected tv
Get news alerts
Contact BBC News
Source:
Google News Colombia
|
Netizen 24 Colombia